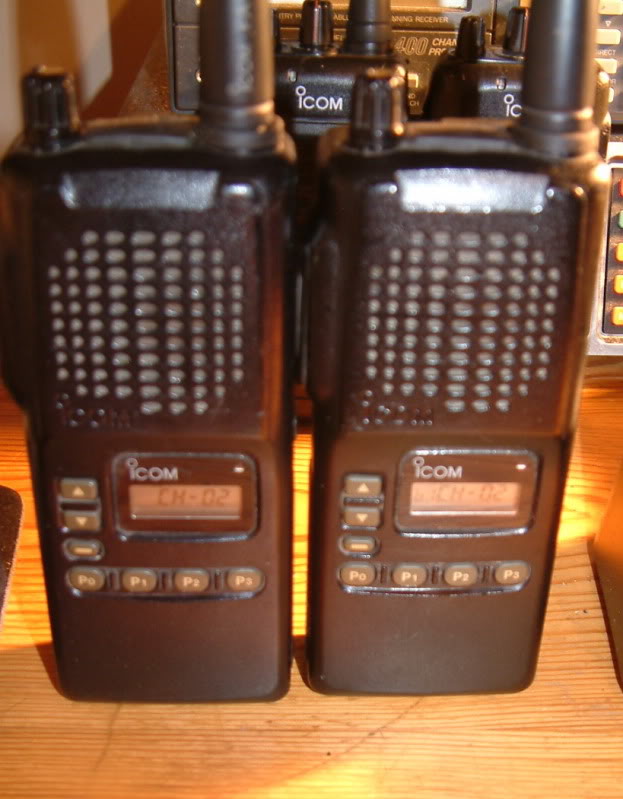 IC-F3 & IC-F4 SPECIFICATIONS
GENERAL
Frequency coverage (Varies according to version) (Mhz)


IC-F3
136.000 -150.000
146.000 - 174.000
IC-F4
400.000 - 430.000
440.000 - 470.000

Mode: 16KOF3E (25 kHz type) 8KOF3E (12.5 kHz type)
Number of channels: 32 (16 channels x 2 banks)
Power supply requirement: 9.6 V DC (negative ground)
Current drain


| | | |
| --- | --- | --- |
| Tx | High Power | 2.0 A |
| | Low power | 1.0 A |
| Rx | Rated audio | 300 mA |
| | Standby | 60 mA |

Frequency stability:

± 0.0005% (EIA)
± 1500 Hz (ETS/CEPT)

Usable temperature range:

+14°F to +140°F (EIA)
-10°C to +55°C (ETS/CEPT)

Dimensions (proj. not included):

57(W) x 140(H) x 37(D) mm
2(W) x 5(H) x 1 15/32 (D) in

Weight (with antenna and battery): 390 g (13.8 oz)
---
Transmitter
Output power: (at 9.6 V DC)

| | |
| --- | --- |
| IC-F3 | 5 W or 1 W |
| IC-F4 | 4 W or 1 W |

Modulation system: Variable reactance frequency modulation
Max. frequency deviation:

+/- 5.0 kHz (25 kHz type)
+/- 2.5 kHz (12.5 kHz type)

Spurious emissions:

70 dB typical (EIA)
0.25 MW (ETS/CEPT)

Adjacent channel power:

70 dB (25 kHz type)
60 dB (12.5 kHz type)

External mic. connector:

3-conductor 2.5 (d) mm
(1/10")/2 k ohms
Measurements made in accordance with EIA/TIA-152-C, 204D, 603 or ETS-300-086 or CEPT T/R 24.
---
Receiver
Receive system: Double-conversion superheterodyne
Intermed. freq. (F3/F4)


| | |
| --- | --- |
| 1st | 31.05/46.35 MHz |
| 2nd | 450 kHz |

Sensitivity (typ.; F3/F4)


| | |
| --- | --- |
| for 12 dB SINAD | 0.25/0.3 µV |
| EMF: for 20 dB SINAD | 0.63/0.79 µV |

Squelch sensitivity (typ.; F3/F4) : 0.25/0.3 mV (at threshold)
Adjacent channel selectivity: 70 dB (25 kHz type) 60dB (12.5 kHz type)
Spurious response rejection: 70 dB
Intermodulation rejection: 65 dB
Audio output power (at 9.6 V DC): 300 mW (typical at5% distortion with an 8 ohm load)
External speaker connector: 3-conductor 3.5 (d) mm (1/8")/8 ohm
All stated specifications are subject to change without notice or obligation.
---
OPTIONS
BC-110A/D/V WALL CHARGER
Regularly charges the connected battery pack.
BC-119 DESKTOP CHARGER + AD-81 CHARGER ADAPTER
For rapid charging of battery packs. An AC adapter is supplied with the charger. Charging time: 1 to 1.5 hrs.
BC-121 MULTI-CHARGER + AD-81 CHARGER ADAPTER
For rapid charging up to 6 battery packs simultaneously. An AC adapter may be supplied depending on version. Six AD-81Ìs are necessary. Charging time: 1 to 1.5 hrs.
BP-194 BATTERY CASE
Battery case for AA(R6) x 8 batteries.
BP-195/BP-196 BATTERY PACKS
BP-195: 9.6 V/700mAh; BP-196: 9.6 V/1050 mAh
HM-46 SPEAKER-MICROPHONE
Slim dimensions. Equipped with an earphone jack and a transmit indicator.
HM-54 SPEAKER-MICROPHONE
For operation while conveniently hanging the transceiver from you belt, etc. Max. input power: 5 W.
HM-75A SPEAKER-MICROPHONE
Allows you to remotely select operating channels, etc.
HS-51 HEADSET
For hands-free operation. Includes VOX, PTT and "one-touch" PTT with a time-out timer.
OPC-254L DC POWER CABLE
Allows you to charge a battery pack connected to the transceiver via a DC power source (13.5 to 16 V DC). For charging Only the transceiver cannot be simultaneously operated.
OPC-474 CLONING CABLE
Used for radio-to-radio data cloning.
SP-13 EARPHONE
Provides clear audio in noisy environments.
UT-80 2-TONE UNIT
Provides the transceiver with 2-tone decode capability.
UT-96 5-TONE UNIT
Provides the transceiver with 5-tone encode/decode capabilities.