Un altro prodotto dagli occhi a mandorla che promette, dalle caratteristiche divulgate, di fare
praticamente tutto infatti è:
Teleffono cellulare dual sim
Ricetrasmettitore dual band
Lettore mp3
Radio
etc...
Insomma manca solo il proverbiale caffè. Sono proprio curioso di provarlo appena ne avò possibilità.
Di seguito caratteristiche e foto.

Main Features
Transceiver U+V dual band
128 channels
PC programming
Dual sim cards,dual standby
MP3 Player
human-based opearational interface
cell phone+transceiver
camerra built-in
FM radio
TV player
Entertainment and Games
Short message send/receive
GENERAL




Frequency range:

VHF 136-174MHz UHF 400-470MHz

Operating temperature:

-20℃-+50℃

Operating voltage:

3.7V

Operating mode:

Simplex or Half-duplex

Size:

114mm*50.8mm*29.6mm

Weight:

185.4g (including the battery)

Antenna Impedance:

50Ω

TRANSMITTER

RECEIVER

Frequency stability

±2.5ppm

Sensitivity

<0.2uV

Carrier output power

2W

Audio distortion

≤5%

Modulation limit

≤5KHz/2.5KHz

Audio response

+2dB~10dB

Audio distortion

≤5%

Co-channel rejection

≥-8dB

Modulation character

+3dB~-3dB

Adjacent channel selectivity

≥60dB

Adjacent channel power

≥70dB/60dB

Intermodulation rejection

≥65dB

Spurious radiation

≤7.5uW

Spurious response

≥70dB

Occupied bandwidth

≤16KHz

Block character

≥80dB
Standard Accessories
2 PCS ANTENNAS
CHARGER
BATTERY
LEATHER CASE
EARPHONE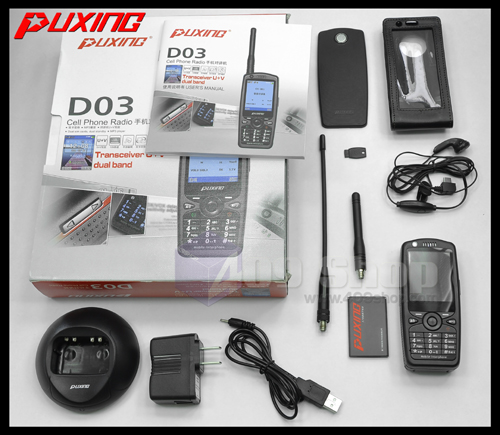 ---
E' venduto anche con questo nome:  P-A-968 Cell Phone Radio Dual Band
w/MP3 Player
e queste caratteristiche:
Network:
GSM:850/900/1800/1900 MHz
UHF:400-470 MHz
VHF:136~176MHz
Size:
106.3*42*10.5 (GSM cell phone)
106.3*42*24.2 (interphone)
2-way radio cell phone: Cell Phone Walkie-Talkies P-A-968 with Transceiver U+V Dual band
•Network Frequency: 850/900/1800/1900MHz
•Screen: 2.2 inch QCIF screen: 176*220
•Feature: Cell phone, Email, FM Radio, MP3 Player...
•Camera: < 3MP
•Design: Bar
•Screen: 2 - 3"
•Model Number: P-A-968
•Operation System: mtk
•Walkie talkie frequency: U and V
•Walkie talkie moduel: built-in 2000MAH battery
•Phone battery: 750 MAH
•Frequency: 136-174 400-470 U and V
•Walkie talkie distance: 1-3km city,plain:2-4KM
•PLAYER: MP3
•128 channels, PC programming
•Input frequency by manual
•Dual sim cards, dual standby
The cell phone walkie talkie is also known as push to talk (PTT).
This means that you need only push one button to have instant access to the other person.
The phone doesn't have to ring for the other person; he or she will hear your voice immediately.
Another benefit of the cell phone walkie talkie is that you can talk to groups of people at one time.
You simply talk, everyone else listens, and then it is someone else's turn to talk.
If considering this use of a cell phone walkie talkie, make sure that everyone you need to talk to has the
walkie talkie feature on his or her phone.
General Specifications:
•Frequency range:
1.UHF: 400~470MHz
2.VHF: 136~174MHZ
•Number of frequency steps: 5/6.25/10/12.5/25KHz
•Frequency stability: 2.5PPM(-20°C-60°C)
•Modulation: FM
•Speaker impedance: 8 Ω
•Antenna impedance: 50 Ω

Standard test conditions:
•Standard of supply voltage: 3.7 Vdc
•Environment temperature test: 25°C ±5°C
•Standand of audio signal: 1KHz
Receiving part
| Receiving part | Units | Typical | Limits |
| --- | --- | --- | --- |
| Receiver sensitivity (12 dB SINAD) | dBm | -122 | ≤-120 |
| Open sensitivity (SQ1) | dBm | -123 | ≤-120 |
| Close sensitivity (SQ1) | dBm | -124 | ≥-126 |
| Maximum audio output(8R single-ended load point) | V | 1.5 | ≤1.7 |
| Audio distortion(output of 1.2V) | % | 5 | ≤10 |
| Maximum signal to noise ratio(Narrowband/Broadband) | dB | 50/50 | 48/48 |
| Receiving bottom noise | mV | 30 | ≤50 |
| DCS receiver sensitivity | KHz | 0.2 | |
| CTCSS receiver sensitivity(Narrowband/Broadband) | KHz | 0.2/0.35 | |
| Adjacent channel suppression | dB | -60 | -60 |
| Receiving the maximum current(1.5Kz dev.) | mA | 350 | ≤400 |
| Standby current | mA | 70 | ≤75 |
| Low voltage directive | V | 3.4 | 3.4-3.5 |
Emission part(test power supply voltage 4.0V)
Units
Typical
Limits
RF power
UHF
W
1.8
≥1.7
VHF
W
1.8
≥1.5
Frequency error
±HZ
300
500
Emission current
UHF
A
1.3
≤1.4
VHF
A
1.3
≤1.4
Audio modulation sensitivity
MV
10
≤20-
Audio maximum deviation(Narrowband/Broadband)
KHZ
2.3/4.7
≤2.5/5.0
Audio distortion
%
2.5
5
Residual frequency offset(300-3KHz)
KHz
0.05
0.1
CTCSS/CDCSS frequency offset (Narrowband/Broadband)
KHz
0.5/0.7
0.4-0.9
Adjacent channel power(Narrowband/Broadband)
Db
-60/-60
-60/-60
Maximum signal to noise ratio(Narrowband/Broadband)
dB
45/42
42/40
Residual wave radiation
db
-65
-60
Antenna current
mA
1200
140
Charge current(5Vrechargeable battery voltage3.6-3.7)
mA
400
350-400
Hardware:
remark

type

Type

BAR

Mobile phone+walkie talkie

PCBA Size

106.3 X 42 X 10.5mm

Walkie talkie PCBASize

106.3 X 42 X 24.2mm

LCD

LCD

2.2''LCD, No TP

Touch screen

NO

resolution

QCIF176*220

color

262K

Camera

pixel

30W

Camera

Front camera

Connect way

FPC joint

flash

no

Torch

yes

On the walkie talkie

Frame

speaker

yes

1in-build 2415speaker

REC

yes

1506

Vibration

yes

1027

Battery

yes

BL-4C

Sidekey

yes

Main keypad

yes

23pcs

antenna

yes

In- built PIFA

Keypad light

yes

LED blue light

Hardware

Platform

MT6223C

frequency

850/900/1800/1900

TV

No

MP3

support

MPEG4

supportAVI,3GP,MP4

Memory

NOR FLASH 128Mb + PSRAM 32Mb

T-Flash

yea

FM

yes

FM outspeaker

Earphone as antenna

Bluetooth

no

G-sensor

No

Hand-free

yes

SIM slot

2

interface

RF interface

yes

earphone

yes

NOKIA Charger

yes

USB charger interface

no

12pin-I/O
Software:
Menu style

yes

QCIF 176*220 9graphical menue

WAP

yes

MMS

yes

Input methord

yes

ZI, T9, ABC

language

yes

English, Chinese, portous, tuerky, Spanish, Indonesia, Thailand, aribic etc.

Phonebook

yes

500pcs

SMS number

yes

200pcs

SMS

yes

SMS group

yes

Ringtone

yes

PC

No

STK

yes

Game

yes

1

Calling history

yes

Receive/missed /calling20pcs each

Setting

yes

Ringtone,volume, Screen protect. Automatic open/close.

Tool

yes

calculate, calendar, clock, remark, recorder

Call center

yes

Calling wait, calling keep, calling convert, calling limited

Screen protect

yes

Animation or silence screen protect

User profile

yes

General, meeting, outdoor, indoor, headset

U Disk

No

Digital zoom

yes

Video

yes

E-book

yes

TXT format

Number local

Optional

Mobile phone and walkie talkie profile select

mobile

Open mobile,the walkie talkie is closed

Walkie talkie

Open walkie talkie,the mobile is under the flight mode

Mobile Priority

Phone or walkie-talkie in a call,walkie-talkie or mobile phone signal, there will be prompted to select the walkie-talkie or cell phone communications; such as walkie-talkie signals of first refusal, during a phone call will not deal with walkie-talkie signal prompts

Walkie-talkie priority

Phone calls to walkie-talkie signals, will hang up the phone directly; such as mobile phones opened HOLD function, will the phone directly HOLD;

Mobile phones and walkie-talkie charger / power supply

support
Specifications:
(1) GSM Mobile phone:
Network Frequency: 850/900/1800/1900MHz
SIM: Dual SIM
Screen: 2.2 inch QCIF screen: 176*220
Camera: Built-in 0.3 Mega pixel camera at front
Platform: MT6223C
Flashlight: Yes
Handsfree: Yes
Telecom Features:

Mobile Internet: WAP
Messaging: SMS / MMS

Memory: NOR FLASH 128Mb+PSRAM 32Mb , support 2GB TF card to expand memory
Multimedia: FM Radio, Camera, Image viewer, Video player, Audio player, Sound recorder
Pre-loaded Apps: Calendar, To do list, Alarm, Calculator, Unit converter, Currency converter, World clock, E-book reader
Fun & Games: Mahjong
Languages: English, Chinese, Portuguese, Turkish, Arabic, French, Spanish, Persian, Thai, Russian, Italian, German, ect
Dimension: walkie talkie phone: 11.30*5.2*0.8CM.
Phone weigh: 58.5G, phone+walkie talkie weigh: 177.00G.
Size of box:20.5*5.6*22.00Cm, weigh of box: 665 g.
(2) Walkie Talkie
Frequency Range:

UHF: 400 ~ 470MHz
VHF: 136 ~ 174MHZ

Frequency Step value: 5/6.25/12.5/25KHz
Frequency Stability: 2.5PPM (-20 °C -60 °C)
Modulation: FM
Speaker impedance: 8 Ω
Antenna Impedance: 50 Ω
Use to walkie talkie within three kilometers
Standard test conditions:
Standard supply voltage: 3.7 Vdc
Test temperature ambient temperature: 25oC ± 5oC
Standard audio signal: 1KHz