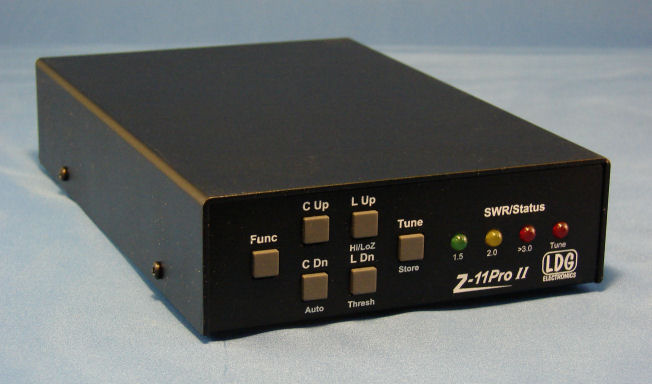 0.1 to 125 watt power range (SSB and CW), 100W on 6M.
Easy to read LED display for SWR and status.
2000 memories for instantaneous band changing.
Tuning time: 0.1 to 6 seconds full tune, 0.1 seconds memory tune.
Selectable user parameters: Auto/Semi, threshold, and more.
1.8 to 54.0 MHz coverage. Built-in frequency sensor.
Tunes 6 to 1000 ohm loads (16 to 150 on 6M).
For Dipoles, Verticals, Vs, Beams or and Coax Fed Antenna.
Optional external Balun allows tuning of random length, long wire or ladder line fed antennas.
Includes 6' DC power cable.
Power requirements: 6 to 16 volts DC at 300 mA Max. 25 uA standby current.
User installable 4-AA battery holder (not supplied).
Small Size Enclosure: 7.7L" x 5.0W" x 1.5H". Weight: 1.5 pounds.