Vedi qui il catalogo - ANTICIPAZIONI MAGGIO 2019 - IL Elettronica srl ci comunica: In qualità di distributori certificati Europei della YAESU MUSEN siamo lieti di annunciare l'uscita del un nuovo portatile YAESU FT-3 D C4FM/FM 5 W144/430 doppio ascolto, con funzionalità elevate e interfaccia BLUETOOTH installata di serie!
Arrivo previsto prima settimana di luglio 2019. Prezzo orientativo euro 365,00 ( da confermare)...
Da quanto si legge è più di un restyling infatti oltre ad arrotondare il case introduce almeno tre importanti novità:

Una matrice tft per lo schermo che lo rende finalmente leggibile anche dai 50enni in su
Una funzionalità recording anche della voce, oltre che dei dati gps
Bluetooth
Erano esigenze richieste dai radioamatori durante l'utilizzo dell'ottimo FT2D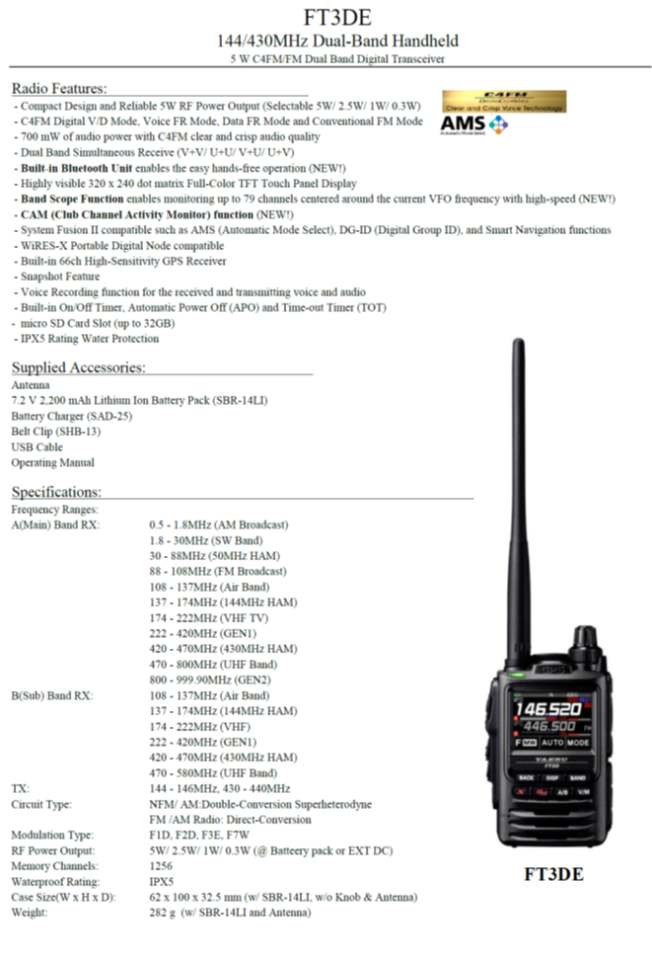 ---
FT3D is the next Yaesu flagship handheld, ready to be released in the following days by the japanese company. It covers VHF/UHF, features a full color touchscreen display, Bluetooth and many other goodies already present on the FT2D.
Yaesu FT3DR is the model expected to be announced at Dayton Hamvention 2019 in the USA, while the European market will get the FT3DE version. Availability claimed in June 2019, but no sign of FCC certification yet.
320 x 240 dot matrix full color TFT LCD display
4 power output levels: 5W / 2.5W / 1W / 0.3W
Wide-range RX coverage with continuous reception from 0.5MHz – 999.99MHz (A Band)/ 108MHz – 580MHz (B Band)
Built-in high-sensitivity 66 channel GPS receiver
1200/ 9600bps APRS Data modem
Automatic Mode Select (AMS), Digital Group ID (DG-ID) operation, Smart Navigation
WiRES-X Portable Digital Node Function
2,200mAh High-Capacity Li-ion Battery Pack (SBR-14LI) as standard
Voice Recording Function for the received and transmitting voice and audio data which can be saved as an audio file on the micro SD card
Simultaneous AM/FM broadcast Reception while monitoring two frequency channels
Micro SD Card Slot
Size (W*D*H) 2.44*3.94*1.28" / 62*100*33mm, 9.95oz / 282g
Below are a minimal set of official early specs, leaked by the Japanese Ministry of Interior and Communication

Fonte: https://qrpblog.com/2019/05/yaesu-ft3d-new-flagship-vhf-uhf-handheld/
Yaesu FT3D First Look from Hamvention 2019