Il nuovo portatile kenwood bibanda con funzionalità APRS e unità GPS integrata.
L'apparato sarà sul mercato europeo nell'Inverno 2010.
Connettore mini USB per il controllo dal PC. FInalmente un aggiornamento moderno alla standardizzazione, almeno nelle interfaccie e quindi nei cavi, con il mondo PC. Probabilmente tutti i nuovi apparati delle varie case adotteranno questo tipo di porta.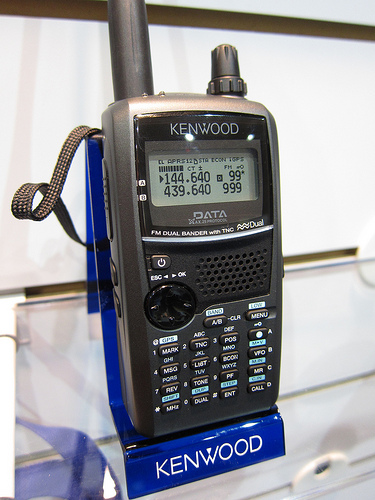 ---
Type:
Amateur VHF/UHF transceiver
Frequency range:
144-146 / 430-440 MHz (Europe and Asia)
144-148 / 430-450 MHz (USA)
Mode:
TX: FM/NFM
RX: AM/FM/NFM
RF Power output:
Hi: 5/5 W
Receiver system:
N/A
Sensitivity:
N/A
Selectivity:
N/A
Image rejection:
N/A
Voltage:
? VDC (1800 mAh Li-Ion pack)
Current drain:
RX: ? mA
TX: ? A
Impedance:
50 ohms, SMA
Dimensions (W*H*D):
? mm
Weight:
? gr
Manufactured:
2010-20xx
Other:
1000 memories with alpha tags. Built-in 1200/9600bd TNC and GPS. APRS
Echolink support. Mini-USB
---
Launch of New Amateur Radio Products:

Kanagawa, Japan, May 7, 2010 — Kenwood Corporation, an operating company of the JVC Kenwood Group, is proud to announce the autumn/winter launch of two new Amateur Radio transceivers: the TS-590S and TH-D72.

HF/50MHz All-Mode Transceiver - TS-590S (tentative naming)
Featuring a 32-bit floating-point DSP, the TS-590S will offer advanced receiver performance and an extensive range of features that make it ideal for beginner and seasoned DX'er alike. The radio's exceptional ease of operation, true to the Kenwood tradition, will be especially welcome for contest and mobile applications.

144/430MHz Dual Band FM Portable - TH-D72 (tentative naming)
The APRS® capability found on Kenwood's TH-D7* and TM-D710 has been upgraded for the TH-D72. Thanks also to the internal GPS unit, APRS operations will be more enjoyable than ever. The TH-D72 also offers EchoLink® memory compatibility and a mini-USB connector for enhanced computer connectivity. This transceiver is sure to make ham radio operations easier and more fun for all.

* For overseas model/Discontinued model

Anyone interested in these two models will be able to view product samples at: Dayton Hamvention 2010 (Dayton, Ohio, USA, May 14-16), and HAM RADIO 2010 (Friedrichshafen, Germany, June 25-27).

Please note that as these products are under development features and specifications are subject to change without notice.

APRS is a registered trademark of Bob Bruninga in the USA.

EchoLink is a registered trademark of Synergenics, LLC in the USA.

Tel: +81-45-444-5306 Fax:+81-45-444-5319 E-mail: Questo indirizzo email è protetto dagli spambots. È necessario abilitare JavaScript per vederlo. Or contact your local Kenwood PR representative in your country

 
---
TH-D72 at Dayton 2010
This was the mock up Kenwood showed of the new TH-D72 at Dayton 2010. It was actually made of balsa wood. So it was not functioning. It simply gave you a look and feel of the future unit. No info was released concerning price and launch date.
w6gps — 15 maggio 2010 — A quick look at the NEW Kenwood TH-D72 APRS HT.. more to follow in the next few Months. Shot this on location at the 2010 Dayton Hamvention