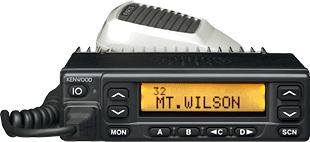 TK-780/880 in detail:
Trunked Mode with Conventional and LTR(TM) Systems
The Kenwood TK-780/880 Conventional Mode offers traditional two-way conventional repeater and simplex operations with priority channel scanning. The Trunked Mode allows operation on both conventional and LTR(TM) trunking systems in one unit.
*LTR(TM) is a registered trademark of Transcrypt, International.
Large Channel Capacity
In Trunked Mode, the 600-channel capacity can handle all your trunked system requirements now and in the future should the network expand. Each programmed system can be either set for either conventional or trunked operation. The unit dynamically allocates the 32-system and 250-group memory capacity as system parameters are programmed. In Conventional Mode, the 250-channel capacity provides more than enough room for company-wide, departmental, divisional requirement plus room for auxiliary or special-use channels.
FleetSync(TM) Alpha-numeric Two-way Paging
Kenwood takes voice communications and adds a new dimension with FleetSync(TM) Alphanumeric Two-Way Messaging which provides the built-in capability to send and receive both pre-stored status messages and custom alphanumeric text messages. Much like an alphanumeric pager, the received pages are stored in memory so they can be reviewed. Each unit has an electronic serial number for message origin identification.
Multiple Scanning Functions
System scan and group scan permit monitoring multiple systems and talk groups for calls. Priority scanning is available within programmed conventional systems. Talk Back scan permit users to respond immediately to calls regardless of the pre-programmed or selected scan revert channels. Scan lists can be altered with the Add/Delete features.
DTMF Signaling & Dialing Features
DTMF PTT ID provides a built-in ANI for business and industrial applications (operates with KMC-27A/B or optional KMC-28A keypad microphone). The optional KMC-28A keypad microphone adds manual DTMF for selective calling, system access, remote control applications and access to automatic dialing features such as the auto-dial memory for telephone interconnect and/or integrated Radio-PABX systems.
Other Features:
- High Output Speaker
- Companded Audio for improved audio clarity
- Data-ready Connection Port
- Flash Memory Advantage
- Data-ready Connection Port
- MIL-STD 810 C/D/E
- Built-in QT, DQT, DTMF
- Busy Channel Lockout
- Time Out Timer
- Minimum Volume
- DTMF and 2-Tone (Conventional Mode only)
Dimensions (W x H x D): 140 x 40 x 145 mm
Weight (Net) : 940 g