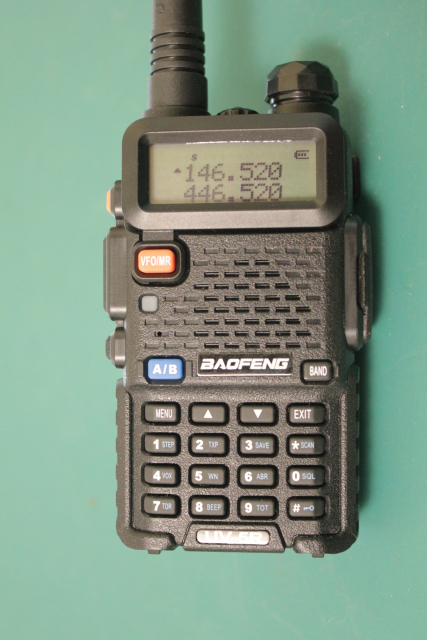 RICETRASMITTENTE DUAL BAND BAOFENG UV-5R Vhf Uhf 136-174 / 400-480 Mhz
Frequency Range: 136-174 / 400-480MHz
Dual-Band Display, Dual Freq. Display, Dual-Standby
Output Power: 4 /1Watts
128 Channels
50 CTCSS and 104 CDCSS
Built-in VOX Function
1750Hz Brust Tone
FM Radio (65.0MHz-108.0MHz)
LED Flashlight
Large LCD Display
Hight /Low RF Power Switchable
25KHz/12.5KHz Switchable
Emergency Alert
Low Battery Alert
Battery Saver
Time-out Timer
Keypad Lock
Monitor Channel
Channel Step: 2.5/5/6.25/10/12.5/25KHz
ROGER SET
| | |
| --- | --- |
| ■ Dual band, dual display, dual standby | ■ A/B band independent operation |
| ■ 128 groups channels storage | ■ Shortcut menu operation mode |
| ■ VFO & Memory channels scan | ■ Emergency Alarm |
| ■ Tri-color background light selectable | ■ 0~9 grades VOX selectable |
| ■ PTT & ANI ID | ■ FM radio and 25 stations storage |
| ■ Voice companding | ■ 50 CTCSS/104 DCS |
| ■ | ■ PC programmable |
| ■ Wide/Narrow Band(25kHz/12.5kHz) | ■ Transmitter time-out timer(TOT) |
| ■ High/Low TX power selectable | ■ Busy channel lock-out(BCLO) |
| ■ | ■ |
| ■ | ■ |
Specifications:
Item number
UV-5R
General
Frequency Range
65-108MHz(FM Receive only)
136-174MHZ and 400-480HZ (TX/RX)
Channel No.
128
Frequency Stability
±2.5ppm
Antenna
High gain DualBand antenna
Antenna Impedance
50Ω
Operating Voltage
DC 7.4V
Mode of operation
Simple or semi-duplex
Dimension(W x H x D)
100 x 52 x 32 mm
Weight
250g(including battery, antenna)
Transmitter
Output power
4W / 1W (Max 5W)
Modulation Mode
16kΦF3E / 11kΦF3E
Maximum deviation
<5kHz(Wide) / <2.5kHz(Narrow)
Spurious Radiation
<7μW
Adjacent Ch. power
≤-65dB(Wide) / ≤-60dB(Narrow)
Pre-emphasis characteristics
6dB
Current
≤1.6A(5W)
CTCSS/DCS deviation
0.5±0.1kHz(Wide) / 0.3±0.1kHz(Narrow)
Intermediation sensitivity
8-12mv
Intermediation distortion
<10%
Earpiece / mic type : Kenwood Plug type
Antenna : SMA -Female
Informazioni utili dal collega Marco T. IUAZO
(30 marzo 2015, il file img compilato dall'amico Marco, da utilizzare
con il software CHIRP, contiene i ponti utili e raggiungibili in zona 0,
come da questo elenco, e le frequenze monitor in uso da alcuni
radioamatori in zona Roma Est)
------------------------------------------------------------
Ciao Alessandro,
il file che mandai a Danilo relativo alla radio in oggetto,
era la prima versione fatta per Domenico,
con la sintesi vocale attiva e senza modifica ai livelli di squelch.
Ti allego una versione modificata e la lista in formato Word
(così puoi ampliarla senza riscriverla).
Per la programmazione puoi usare il programma open source Chirp (http://chirp.danplanet.com/projects/chirp/wiki/Home)
nella versione Daily Build che viene aggiornata quasi giornalmente, ed è molto più versatile di quelli proprietari.
Ti da la possibilità, per esempio, di spostare tutta una serie di memorie per inserirne una nuova.
Oppure di importare le memorie dal file di un'altra radio
di altra marca e modello o le frequenze LPD e PMR
da dentro al programma stesso.
Lo puoi scaricare da questo link:
http://trac.chirp.danplanet.com/chirp_daily/LATEST/
Ti allego anche una interessante guida trovata in rete con le modifiche relative alle soglie di squelch che si possono fare con l'ultima versione di Chirp.
Il file .csv allegato contiene le frequenze della zona 0 per una veloce programmazione con il software Chirp.

Salutoni,
Marco IUØAZO