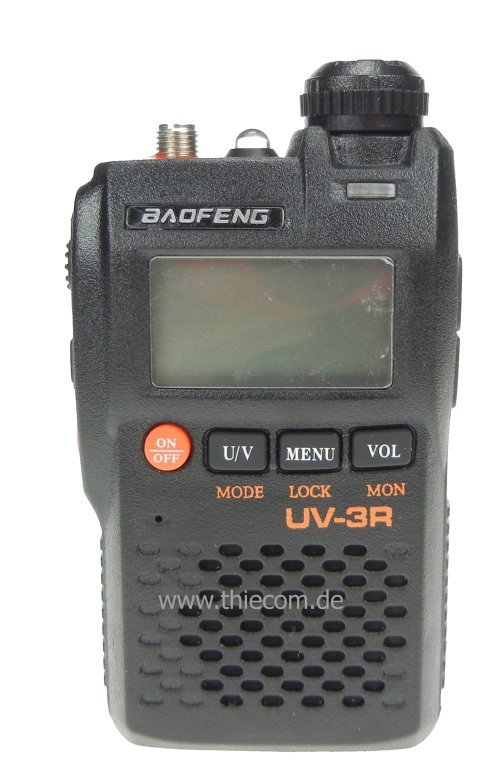 Tiny dual band radio like the Yaesu VX-3R
Ricetrasmettitore TASCABILE bibanda, potenza reale 2 watt, VHF - UHF
venduto anche come VERO UV-3R , ZASTONE ZT-UV3R, CHUANOI CQ-UV3R
---
Review by kc2ra
I recently acquired a Baofeng UV-3R dual band sub miniature HT as in import from China for about $50.00. This radio is made by Vero Telcom as a custom label product (watch out for their dual band mobile) and marketed by BaoFeng Electron Co, LTD, it is also available under several other names such as Magiksun. This radio is readily available to purchase from many online retailers, all ship from China (this article will not cover the legalities of importing your own radio or its lack of certification, please seek advice and reach your own conclusion) and will take two to three weeks to arrive.
This review is based on my opinions, observations, and specifications of the radio as I lack the necessary equipment to perform a lab analysis. I will also rely on the work of others by embedding various videos and other references that have already been accomplished. In short, this review is not meant to be gospel, and is not entirely original work.
At first look, this radio may seem like a clone of the Yaesu VX-3R. Remember the adage, never judge a book by its cover, looks can be deceiving.
---
Specifications
The manufacturer specification sheet indicates a frequency range of 136.00 - 174.00 MHz and 400.00 - 470.00 MHz, 99 standard memory channels and 1 emergency memory location, 2 watts power output using F3E modulation, wide/narrow bandwidth selectable, 0.2uV sensitivity (12db SINAD), 0.15uV squelch selectivity, greater than 65db of adjacent channel selectivity, -60db of spurious rejection, and operating voltage of 3.8v, battery capacity of 1,500mAh, operating time of 10 hours (1:1:8), a weight of 120g, dimensions of 81*49*23.8 cm, broadcast FM radio reception, VOX, Emergency alert, battery saver, and a flashlight.
It should come as no surprise that some of the information supplied by the manufacturer is incorrect.
From what I am able to confirm, the operating voltage is 3.2v (the battery is 3.7), battery capacity is actually 1,200mAh, and the dimensions should be in millimeters. Power output seems to vary by were you are on the band, on our repeater (TX 147.430) the output measured 2.3 watts and on 146.52 it measured 1.9 watts, on the KC2LEB repeater (445.550 TX) it measured 1.9 watts, on 446.000 it measured 2.1 watts, and on 440.475 it measured just 1.4 watts.
On a fully charged battery run time was just over 5 hours for half volume receive (162.55 weather radio), 53 minutes full TX (VHF) into a dummy load, and two work days of monitoring the local repeater with an occasional transmit.
One thing missing from the spec sheet is the fact that this radio has a DSP. The DSP, while slow to respond, does a fantastic job of cleaning up the audio and pulling in weaker stations. This was tested using 162.475 in Riverhead as a reference signal. Four radios were used with their stock antennas, The VX-3R, VX-7R, ID-80, and the UV-3R. The location chosen was on the roof of a tall downtown Manhattan building in a RF rich environment with an open squelch. The ID-80 and VX-3R were overwhelmed with intermod and unable to receive the NOAA broadcast. The VX-7R was able to pick up the signal along with some intermod about 40 percent of the time. At first I believed the UV-3R failed this test, as all that was heard was static. Gradually the signal started to come in, over a period of 20-30 seconds the radio started to gradually produce better audio until it sounded full quieting.
A change in the reception strength (for example moving the radio) or entering one of the radios menus caused the DSP to reset and start again. I'm sure the AGC and onboard preamp also played a role. There are no menu selections for the DSP, it's on full time. The UV-3R did not pick up ANY intermod during this test, As KA7OEI points out in a Yahoo Group posting, this radio has a "zero Hertz" IF. Instead the radio uses direct conversion (in quadrature)  to baseband were the chip demodulates the signal.