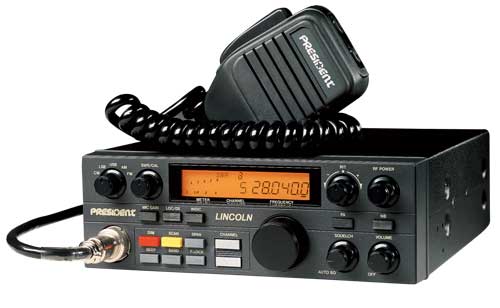 The President Lincoln is a well proven design - it has been about for much longer than it's competitors (since the mid 80's!) and yet is still one of the most popular 10m radios available. There are not many radios still in production after so long!
The simplicity of this radio together with it's good overall performance have made it such a popular choice.
Over the years there have been various minor modifications to the design - one of the latest being the replacement of the difficult to obtain MRF477 output transistor with the more common (and higher rated) MRF455.
The backlit LCD display shows frequency, channel and signal strength. The integral meter shows RF output, signal strength, SWR or modulation - depending upon what display you select.
The channels are arranged in banks of 50 (ie 0.5MHz), and you can jump from one bank to another with the press of the "band" button.
Tuning can be done by 3 methods - a rotary channel change, up/down button, or on the microphone. The tuning step can be selected from 10KHz, 1KHz or 0.1KHz.
One of the advantages this radio has over it's competitors is that it has true continuous tuning rather than just tuning between "channels" - if you wish you can tune the entire band in any of the step (as low as 0.1KHz). In contrast the other radios only allow 1KHz tuning "between" channels (ie if you tune up from XX.9 the next step is XX.0).
The output power on AM, FM and CW is continuously variable, however the power on SSB is fixed and can only by altered by varying the microphone audio level.
This radio does not have the memory channels like it's competitors - but do you really need them?
The radio is supplied with a channel-change microphone, power lead and mounting bracket.
Controls are:
| | |
| --- | --- |
| | Volume |
| | Squelch |
| | RIT (clarifier) |
| | RF Output Power |
| | SWR |
| | Mode (AM, FM, USB, LSB, CW) |
| | Mic gain (high/low) |
| | RF Gain (high/low) |
| | Scan |
| | Dim (high/low) |
| | Bleep |
| | Channel Change |
Specifications:
| | |
| --- | --- |
| | Frequency: 28-29.7MHz (expandable to 26-29.7MHz) |
| | Modes: AM, FM, SSB, CW |
| | Size: 185 x 250 x 60mm |
| | Output: 10W AM/FM, 21W SSB |
| | Current: 4.5A |