EQplus by W2IHY è l'accessorio che permette prestazioni ineguagliabili nell'interfacciamento radio/microfono, adattamento di impedenza, controllo dei livelli, ed isolamento RF/audio. Con il Compressore Regolabile si fornisce una vigorosa spinta all'intensità della voce: aumenta la potenza vocale mentre il segnale rimane pulito, splendente, non stridulo. Con l' Espansore Regolabile si ottiene una veloce e trasparente riduzione di rumore di fondo. Il Limitatore gestisce i livelli e lavora in armonia con il compressore per una piena gestione dell'audio.I l Processore Audio EQplus è progettato per essere collegato fra il microfono ed il ricetrans HF Kenwood, Icom o Yaesu. L'apparecchio EQplus fornisce  la Compressione Audio, Espansione Regolabile, Effetti e collegamenti a 3 radio.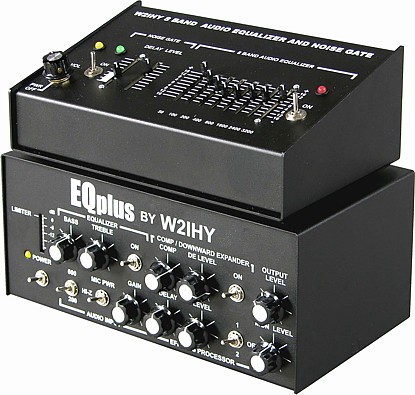 Product Specifications
Dual-Band Audio Equalizer
Bass & Treble independently adjustable +/- 12 dB
Equalizer bypass switch (on/off)
Audio Compressor
Adjustable compression control
Wideband frequency response
Extremely low distortion
Compressor bypass switch (on/off)
Downward Expander
Sophisticated technology for background noise reduction
Adjustable threshold control
Limiter
Fixed limiting manages internal signal level
Harmonious relationship with compressor
Effects Processor
Acoustic enhancement for brighter, smoother top-end
Independent delay & level controls
3-way switch: effect one, effect two, effects off
Audio Input Connectors
The famous W2IHY I-K-Y 8-pin mic jack/selector switch
RCA phono jack
DIN (aux input)
Input Impedance Select
3-way switch: 600 ohm, 200 ohm, Hi-Z
Input Gain Control
Simple, quick input gain adjustment
Low noise pre-amp
Wide-range for mic-level & line-level signals
Mic Power
Provides 5VDC to mic cartridge
On/off switch
Output Level Control
Set precise drive level to your radio
Mic-level output
Line-level output
Three Audio Output Ports
Interface up to 3 radios
Rear panel port selector switch
Low-Z balanced and unbalanced output
Hi-Z output option
5-pin DIN connectors
Pre-wired cable assemblies available (optional)
LED Bar Graph
10-segment multi-color display
Monitors internal audio peak-to-peak levels
Displays compressor action
Indicates onset of limiting
PTT Input (RCA jack)
Adds push to talk control for non-ptt mics
Can be used with foot switch, etc.
Headphone Monitor
High-quality audio amplifier
¼" rear panel stereo jack
Front panel monitor level control
Operating Environment
Designed specifically for amateur radio use adjacent to transmitters and rf amplifiers
Extensive RFI protection & isolation from hum and ground loops
Physical
Steel enclosure
Black finish with white lettering. Attractive in any shack
Dimensions: 8-7/8" X 5" X 4"
Power
7-14 V (100ma) wall transformer provided
LED indicator and on/off switch
Guarantee/Warranty/Support
30 day no questions asked money back guarantee
3 year parts and labor warranty
Free technical support
---
Feature
W2IHY
8 Band
W2IHY EQ Plus
W2IHY
Dual Band
Bands of Equalization
8
2
2
Headphone Monitor
X
X
200 Ohm Microphone Input
X
X
High Impedance Microphone Input
X
X
Audio Outputs to Radio's
2
3
1
Mic Impedance
200
600
HI-Z
200
600
HI-Z
600
Noise Gate or Downward Expander
X
X
X
Kenwood, ICOM, Yaesu mic Compatable
X
X
X
Adjustable Mic Input Level
X
X
X
8 Pin Mic Connector
X
X
X
RCA Phono Mic Connector
X
X
X
XLR Mic Input
X




Phantom 5 vdc for eletrets
X
X
X
Output Impedances
600
HI-Z
600
HI-Z
600
PTT Input
X
X
X
Kit Available
X


X
Audio Compression


X


Audio Limiter


X


Effects


X


Bar Graph Audio Level Indcation


X