Dip Meter MFJ 201 1.5 - 250 Mhz
Misuratore di caduta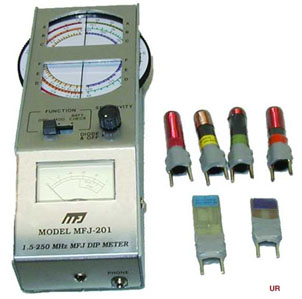 The MFJ-201 dip meter is used to find a coil's resonant frequency. Couple it to an antenna or coax line to find their electrical length. Or use it as an absorption wavemeter for measuring transmitter output, neutralizing tank circuits, or even a field meter. Other traditional uses include: crystal oscillator, monitoring audio signal outputs (it includes a headphone jack) and measuring inductance and capacitance.
This solid-state "grid" dip meter covers 1.5 to 250 MHz in six bands. It has thumb wheel tunning, color coded readout, six coils, earphone jack and battery check. Requires one 9 volt battery (not supplied)
Measures 2 x 2.5 x 7 inches including coil